Christmas has become the biggest holiday in North America, arguably the biggest in the world – and in many ways, it has become a holiday of "more": more presents, more stuff, more events, more expectations, more stress. And in more recent years, Advent too has been co-opted by consumerism. There are dozens of Advent Calendars, chocolate, cheese, wine, dog treats, etc. (at Aldi alone) to "help you" prepare for the birth of the Christ child. But as it turns out, if we dial back the "more," we get closer to the heart of Advent and Christmas.
Less is more.
So this year, we are trying to get back to the basics. Let's recapture the beauty of simplicity, darkness, music, and scripture. When we pare down, what is left?
Advent provides us an opportunity to gather in different ways. This year we are offering different options for worship. We expect that most people will choose one or two of these ways to enter this season, NOT all of them:
Saturday Evening Advent Woods Worship: College Cabin, 5 p.m. (4:30 for children's pre-worship crafts)
This 45-minute outdoor service is planned with families in mind, but is intended for all ages.
Move through outdoor stations to hear scripture, sing advent hymns and pray together in God's glorious creation.
End the time with hot chocolate around a fire in the pavilion and walk around the woods on your own.
Plan to wear a mask for the indoor pre-worship activity but masks are not required for the outdoor service.
Sunday morning Taize Advent Worship: Worship Space, 10 a.m. 
This contemplative service of scripture, Taize style music, silence, and sharing time will last around 45 minutes.
There will not be offering, a sermon, or children's time.
This service is planned with adults in mind, but it is intended for (fully vaccinated) contemplatives of all ages.
Masks will be required for all. Please do not come if you have any Covid symptoms
As a way of protecting the most vulnerable among us, we are requesting that this service be limited to those who are fully vaccinated (two weeks after their second shot).

This service (and most services for the foreseeable future) will be streamed on Zoom. 
Sunday morning Adult Ed: 11 a.m. only on Zoom 
Join with others on Zoom December 5, 12, and 19 to work through a newish MCUSA curriculum
Defund the Police?, an Abolition Curriculum led by Karl Shelly
This curriculum is an initial guide for congregations who are desiring to begin or continue their reflection on what it means to engage the forces of state, their commitments to non-violence and how to act to end policing and police brutality.
"Less is More" SALT weekly at home resources
We invite you to use these weekly resources to to read the scripture, participate in simple "less is more" activities and devotions.
Click the link below or pick up a hard copy at church.
Click the image below to view and download the PDF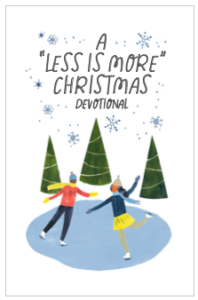 Other Advent & Christmas activities and services:
Candle Dipping: Saturday, December 11, 1 and 2 p.m.
Outside at Steve Shantz's home (60728 CR 27, Goshen)
This Assembly tradition is intended for children and youth. Make your own beautiful hand-dipped candles!
Messiah Sing-along, Saturday December 11, 7:30 p.m.
Join with the Maple City Orchestra and Camerata Singers for a free concert at Goshen College's Sauder Concert hall. Bring your own Messiah score. (donations accepted at the door)
Christmas Cookie Exchange: Sunday, December 12, afternoon 
Sign up here to deliver cookies to three households and receive cookie plates from three households.
Advent Spiral: Sunday, December 19 at 5:30 and 7 p.m.
Memorial Garden
The Advent spiral, a contemplative, candlelight labyrinth walk is an Assembly tradition. Children ages 3 and up are invited to participate. Older children (especially Junior high age) are encouraged to attend at 7pm. Please sign up to attend by emailing Loracn@assemblymennonite.org.
Take a meal to folks living at Goshen Interfaith Hospitality Network, December 20-24
Sign up here https://takethemameal.com/ZLDH6898.
Longest Night Service: Tuesday, December 21, 7 p.m.
Worship Space
In the midst of this season of expectation and joy, we pause on the Longest Night of the year to also acknowledge our sorrows and longings. The 45-minute service is geared for quiet reflection and will include singing, scripture, words of lament and assurance, and candle-lighting.
Christmas Eve evening Service, December 24, 6 p.m.
(outdoors and indoors, dress appropriately)
5:15 p.m.: Candle Dance rehearsal
6 p.m.: Bundle up and gather in the west parking lot to participate in the drama of the Biblical story. We'll end in the worship space with the candle dance and silence night and then share cookies in the parking lot. Sign up here to indicate interest in participating or attending.
Lessons and Carols Zoom service December 26 
Gather on zoom and watch a pre-recorded Lessons and Carols service. Sign up here to participate in reading a lesson or singing a carol. We need lots of folks!